Question: What is a trademark or service mark?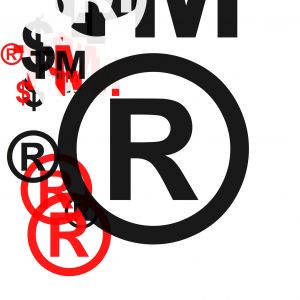 Answer: A trademark is a word, name, symbol, or device that is used in trade with goods to indicate the source of the goods and to distinguish them from the goods of others.A service mark is the same as a trademark except that it identifies and distinguishes the source of a service rather than a product.
The terms trademark and mark are commonly used to refer to both trademarks and service marks.Trademark rights may be used to prevent others from using a confusingly similar mark, but not to prevent others from making the same goods or from selling the same goods or services under a clearly different mark. Trademarks which are used in interstate or foreign commerce may be registered with the USPTO.
Question: What is a collective mark?
Answer: A collective mark is any word, phrase, symbol or design, or a combination thereof owned by a cooperative, an association, or other collective group or organization and used by its members to indicate the source of the goods or services.
Question: What is a certification mark?
Answer: A certification mark is any word, phrase, symbol or design, or a combination thereof owned by one party who certifies the goods and services of others when they meet certain standards. The owner of the mark exercises control over the use of the mark; however, because the sole purpose of a certification mark is to indicate that certain standards have been met, use of the mark is by others.
Question: What is trademark dilution?
Answer: Dilution occurs when someone uses a mark in a manner that blurs or tarnishes the mark. Trademark dilution diminishes the capacity of the mark to identify and distinguish goods or services, regardless of the presence or absence of: competition with other parties, or likelihood of confusion, mistake, or deception. Dilution is different from trademark infringement because trademark infringement always involves a probability of customer confusion. Dilution, however, can occur even if customers wouldn't be misled.
Question: Why register a trademark?
Answer: There are many reasons to register a trademark. Registering provides greater protection of your mark. It protects the name or logo of your mark and you receive exclusive nationwide ownership of the mark to use it how you see fit. Registration also decreases the likelihood of an outside party claiming that your trademark infringes upon their trademark. Registration also provides notice to others that this trademark already exists. Therefore another party who adopts a similar mark cannot clam ignorance of your mark because it is published in the USPTO's public database. Registration also makes the mark "incontestable" if the mark is in question. This means that the trademark owner has conclusive evidence of the validity of the mark and his exclusive right to use the mark.
Deterring others from registering with the same or similar mark is another benefit of registration. Since the trademark is registered with the USPTO and maintained on a public database, others are now alerted that you, as the trademark owner, own the exclusive right to use the mark. The USPTO will also refuse registration of any trademarks it believes to cause confusion to your trademark.
Greater remedies are available for trademark owners as well. Registration allows the trademark owner to obtain three times the amount of recovery and attorneys' fees than for an owner who did not register his mark. Recovery is easier as well since registration grants the trademark owner the presumption of being the valid owner of the mark. Upon registration, the trademark owner also has an automatic right to sue in a federal court.
Question: How long does it take for a trademark application to be approved?
Answer: Once the application is filed with the USPTO, it usually takes 10 to 18 months for your mark to be registered. However, for purposes of protecting your trademark, the filing date is more important than the registration date.
Question: How long do trademarks last?
Answer: The term of a federal trademark registration is ten years, with ten-year renewal terms. However, registration rights can last indefinitely if the owner continues to use the mark to identify goods or services and timely files all post registration maintenance documents. You must file a "Declaration of Use under Section 8" between the fifth and sixth year following registration. In addition, you must file a combined "Declaration of Use and Application for Renewal under Sections 8 and 9" between the ninth and tenth year after registration, and every 10 years thereafter. If these documents are not timely filed, your registration will be cancelled and cannot be revived or reinstated.
Question: Are trademark rights transferable?
Answer: Yes. A registered mark may be assigned and a mark for which an application to register has been filed may be assignable. Certain exceptions exist concerning the assignment of Intent-to-Use applications. Assignments may be recorded in the USPTO for a fee.
<Question: Are internet domain names trademarks?
Answer: The process for registering domain names is an altogether separate one from trademark registration. Nevertheless, many countries have reached the conclusion that there is a strong need for taking precautionary measures to prevent conflicts between marks and domain names. The system for domain names registration generally operates on a first-come first-serve basis and anybody is entitled to obtain any domain name without proof of commercial use.
Question: What are the benefits of federal trademark registration?
Answer: Owning a federal trademark registration on the Principal Register provides several advantages, including public notice of your claim of ownership of the mark;
  a legal presumption of your ownership of the mark and your exclusive right to use the mark in connection with the goods or services listed in the registration;
 the ability to bring an action concerning the mark in federal court;
  the use of the U.S. registration as a basis to obtain registration in foreign countries;
 the ability to record the U.S. registration with the U.S. Customs and Border Protection (CBP) Service to prevent importation of infringing foreign goods;
 the right to use the federal registration symbol ®; and
 listing of your trademark in the United States Patent and Trademark Office's online databases.
Question: What types of trademarks can be registered? 
Answer: Beginning with the least distinctive and ending with the most distinctive, a trademark can be categorized as (1) generic, (2) descriptive, (3) suggestive, (4) arbitrary, or (5) fanciful. A generic mark is never distinctive and never entitled to registration as a trademark, while suggestive, arbitrary, and fanciful marks are usually entitled to trademark protection because the law deems them to be inherently distinctive. Descriptive marks can sometimes be registered on the Principal Register as a trademark if they have achieved "secondary meaning."
Question: What is a generic mark?
Answer: Generic marks are not distinctive and the United States Patent and Trademark Office (USPTO) will not register generic marks because they simply identify the goods themselves—indicating nothing distinctive—and registration of a generic mark would be tantamount to monopolizing the use of a word.
Question: What is a descriptive mark?
Answer: A descriptive mark immediately conveys knowledge of the ingredients, qualities, or characteristics of the goods or services with which the mark is used. The registration of descriptive marks is more complex because it also requires an explanation of the two sections of the Federal TrademarkRegister, namely, the Principal Register and the Supplemental Register. There are two broad categories of descriptive marks: (1) merely descriptive marks which have not acquired secondary meaning, and (2) descriptive marks which have acquired secondary meaning. Generally speaking, most descriptive marks can be registered on the Supplemental Register, but not all descriptive marks can be registered on the Principal Register. A descriptive mark can only be registered on the Principal Register if it has acquired secondary meaning by consumers—sometime called acquired distinctiveness. Secondary meaning does not come automatically, but is usually acquired after a business has become established and consumers recognize the mark.
Wang IP Law Group P.C. assists clients with Trademark Law in the Los Angeles County, Orange County, San Gabriel Valley, Riverside County, San Bernardino County,  San Fernando Valley, San Diego County and San Francisco and San Jose area. Our firm also provides services internationally including representing clients in China, Taiwan, Hong Kong, Japan and Israel. 
To speak with one of our attorneys today, contact us at (888) 827-8880 or email us at info@thewangiplaw.com.